I know how important it is to take good care of your skin, especially since it has to last a lifetime. I'm in my forties, and for more than twenty years, I've been using quality cleansers, masques and wrinkle creams to fight the aging process. Thanks to the advice of two smart women, I learned the secret to staying youthful-looking. I'll share it with you now–You are NEVER too young to start taking care of your skin.
I've rapidly aged in the past two years, and I am not happy about this. I don't want to look old. Part of this rapid aging was due to massive stress, and part due to my lack of income to purchase the beauty products my skin requires to maintain its youthfulness. When NeoStrata contacted me last month and offered me the chance to review another one of their fabulous products, I was thrilled! Not only do I love testing new beauty products, I knew that what they'd send me would most-likely help me look a little younger, especially since I've reviewed their Exuviance Daily Antioxidant Peel CA10, Exuviance Rejuvenating Treatment Masque, and their Exuviance Performance Peel AP25, and have enjoyed seeing the benefits of these products on my face.
ABOUT THE FILLER:
According to NeoStrata, 93% of participants reported overall signs of aging were less noticeable after 8 weeks of twice daily use of this potent filler.
Triple boost formula with CitraFill™, NeoGlucosamine® and Matrixyl® Peptides targets collagen
Enhances natural volume in targeted areas to help fill in the look of deep expression lines over time
High-precision soft tip pen allows direct application to problem areas
Exuviance Targeted Filler T5 helps painlessly build skin's natural volume over time, reducing the look of deep lines and wrinkles for truly natural, younger looking skin. The special high-precision soft tip pen allows you to apply Exuviance Targeted Filler T5 directly to problem areas, delivering highly targeted benefits that go beyond your daily antiaging skincare regimen. Unlike instant topical fillers, this unique formula contains three potent boosters that attack the look of deep wrinkles from within the skin. Patented CitraFill™, NeoGlucosamine® and Matrixyl® Peptides work together to help fortify collagen* and build skin's own natural hydrating matrix*. As a result, volume is increased over time, directly beneath deep lines and wrinkles, so they appear filled, smoother.
"For patients experiencing sagging skin and deep expression lines looking for an effective topical solution, I would encourage them to try Exuviance Targeted Filler T5. This high-performance product contains a triple boost formula with CitraFill™ to help stimulate your own natural collagen and build your skin's volume directly beneath the wrinkle. The unique applicator allows for a precision targeting of the product exactly where you need it, nasal labial folds, forehead creases, around the eyes, or wherever you see lack of volume. While not as dramatic as an in-office procedure, it's an easy and painless alternative to invasive courses of action." -Dr. Julie K. Karen, a board certified dermatologist who specializes in dermatologic and laser surgery, cosmetic dermatology, and Mohs micrographic surgery and currently practices at the Laser and Skin Surgery Center of New York. [*in vitro test]
MY THOUGHTS:
I was sent 0.35 oz of this product which I used over the past six and a half weeks. It was pretty easy to use, but I did have a little mishap the first time I pushed down on that plunger, as shown in the photos below. All I had to do was unlock and then rotate the plunger counter-clockwise to get the process started. When I depressed the plunger, I did so a little to hard, so I applied the excess filler to my hand, rather than the deep expression lines on my face, lol. But no worries, as I used my finger tip to help apply the product to my ugle brow lines, crow's feet, and the lines that are now forming around mouth. I used the product correctly twice a day, and its pen tip really targeted my problem areas.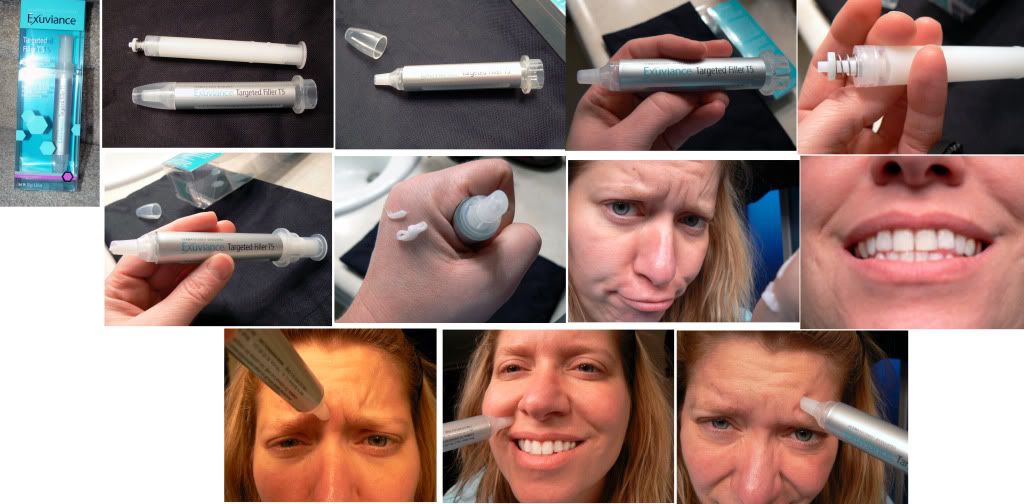 I am happy to report that I did see results after six weeks! I forgot to take an official made-up before picture, but I hope you can see the difference on my face after using the filler, especially after viewing my official after picture.
The ugly brow line that I jokenly refer to as "The Leo" is very diminished, and I couldn't be happier, because what woman wants to look like a prematurely aged male movie star?
I also noticed some fine lines under my eyes have lessened in their appearance, and that my skin feels and looks healthier. After seeing results from using several different Exuviance products, I am a more than happy to endorse their products to you. I truly believe you should give them a try, because they have always give me great results!
BUY THIS PRODUCT:
Purchase your own Exuviance Targeted Filler T5 for $75 at NeoStrata.com. They offer free shipping on all orders, three free samples if you spend $75 or more, and free Exuviance Heel Repair on orders of $125 or more. Why not buy yourself a great gift with all that Christmas cash you earned? Don't you deserve to look good?
Visit NeoStrata.com to check out their wide selection of products now.
Like NeoStrata Company on Facebook.
Follow @NeoStrataSkin on Twitter.
See the Exuviance Targeted Filler T5 featured on my For Her page of my 2012 Holiday Gift Guide.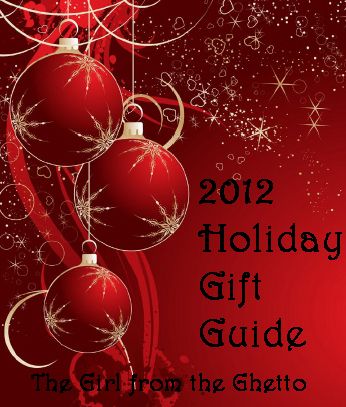 Have more shopping to do? Why not check out the rest of the pages of my 2012 Holiday Gift Guide?
Disclosure: This product sent to me in exchange for an honest review, as well as to be featured in my 2012 Holiday Gift Guide.